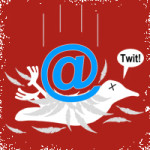 [audio:https://meetmyfollowers.com/wp-content/uploads/podcast/048.mp3] Length: 16:45
Download Episode #48 – @sogeshirts
Today I am joined by Tim Fox (@sogeshirts).  He's best known for the company that he co-founded in San Diego where he and his co-founder create funny and creative t-shirts.  Tim's also a member of the hosting team over at Tees In A Pod and I'm happy to announce I will be on one of their upcoming episodes.  Tim's a guy who'll catch you off guard with his entrepreneurial ways given that super laid back style of the way he speaks.