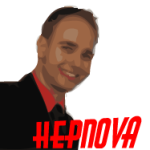 Today on the show I am joined by Nicholas DiBiase AKA @hepnova.  We get the opportunity to talk economics, art, music, and creativity.  Nicholas is a very intelligent and very creative guy and I really enjoyed this interview.  I hope that you get as much out of it as I did.

Enjoy!

Download Episode #10 – @hepnova
Show notes:
As always, I have to thank oneforty for being this show's sponsor and helping make all this possible.  If you're looking for a great twitter application to get the information the way that really works for you, oneforty's the place to go.  With reviews from real users and a clear description of each apps features oneforty should be your first twitter directory resource.  Every character counts, do more with oneforty.