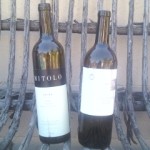 Tim Hilcove can regularly be found at @wklywinejournal or his blog, weeklywinejournal.com, where he'll posting his personal wine experience. Whether that's opening a great bottle or getting an awesome interview with the winemaker Tim is passionate about wine and, I believe, has found the perfect medium for his personal communication style. Tim's a very genuine guy and I hope you enjoy listening to this episode and getting to meet him.
Enjoy!
Length: 15:20
Download Episode #20 – @wklywinejournal
Show notes:
Huge thanks goes out to supporter of the show @solvate.  Solvate's been promoting the show since it's early days and since I don't yet have a sponsor for September I wanted to take the time both in the episode and here to give them a huge thank you to them for helping the show in it's early days.