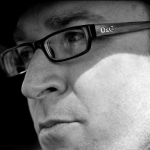 Length: 22:25
Download Episode #29 – @davidalston
David Alston (@davidalston) is the VP of Marketing and Community at Radian6.  But his job is not the reason why I always appreciate it when we get the chance to catch up.  David's a smart guy who understands a lot when it comes business in general but specifically in the areas of marketing, customer relations and development and content creation he's an expert's expert.  He's definitely someone I look up to and I hope you enjoy meeting him through this episode.
Show notes:
Seriously though, listen to the rest of the interview.  Even though there are no links mentioned we have a great talk about social media and how it relates to and enables business.
I would also like to thank this show's sponsor, Solvate. Are you a consultant or freelancer at the top of your field? Solvate is building the country's premier on demand workforce. Join me and top independent professionals across industries and create your profile in the Solvate Talent Engine. Just head to www.solvate.com.