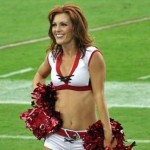 Length: 16:19
Download Episode #32 – @neeleyneal
Neeley Neal (@neeleyneal) is someone who was mentioned to me twice in conversations in the last year.  Given that initial experience I started to follow her and watch her from afar.  Little did I know that Neeley was actually an entrepreneur who's building something that I couldn't be farther from her intended user but I still think the idea is brilliant.  Neeley's is a former NFL Cheerleader and rolled that knowledge in to becoming the founder of SidelineStar.com.  Sideline Star is an online community for cheerleaders and their coaches with all kinds of resources directly from professional cheerleaders.  This interview was actually Neeley's and my first conversation on the phone so I was getting to meet her just like you all are.  Enjoy!
Show notes:
I would also like to thank this show's sponsor, Solvate. Are you a consultant or freelancer at the top of your field? Solvate is building the country's premier on demand workforce. Join me and top independent professionals across industries and create your profile in the Solvate Talent Engine. Just head to www.solvate.com.