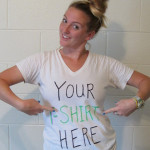 Length: 21:44
Download Episode #38 – @kreganb
Katie Brooks (@kreganb) came on my radar when she submitted her application for IWearYourShirt.  After doing a little more research on her though there's much more that she brings to the table.  A graduate student at Florida State University in media studies, an amateur foodie and a passion for sewing are just the tip of the iceberg that we got to covering in this episode.  I hope you enjoy meeting Katie.
Show notes:
I would also like to thank this show's sponsor, Solvate. Are you a consultant or freelancer at the top of your field? Solvate is building the country's premier on demand workforce. Join me and top independent professionals across industries and create your profile in the Solvate Talent Engine. Just head to www.solvate.com.