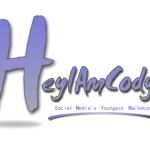 [audio:https://meetmyfollowers.com/wp-content/uploads/podcast/047.mp3] Length: 11:14
Download Episode #47 – @HeyIAmCody
On this episode of the show I talk with one of my youngest followers Cody Strawn (@HeyIAmCody).  Cody's a good kid who wants to get into the online advertising and marketing space and I'm happy to help him along his journey.  Have fun listening to this tighter format to the show.