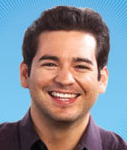 Length: 29:00
Download Episode #50 – @TheRiseToTheTop
My guest on this special episode of Meet My Followers is David Siteman Garland (@TheRiseToTheTop).  He's a TV show host for his local ABC affiliate, podcaster, blogger and (with his new book Smarter, Faster, Cheaper [affiliate link] hitting the book stores today) author.  David's a very smart entrepreneur who's bringing his knowledge and expertise about how small businesses can succeed.  I hope you enjoy this interview.
Stay tuned to the very end of this episode as I'll begin to lay out what will be happening in 2011 with the show.