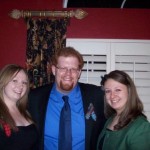 This morning's guest is Bob Raibourne (@Bobraibourne).  His energy and drive are two things I really admire about Bob and I know that his new business venture will definitely be successful so long as he continues to challenge himself.  He's a great guy and I hope you enjoy getting to meet him through the show.

Enjoy!
Download Episode #4 – @Bobraibourne
Show mentions:
As always, I have to thank oneforty for being this show's sponsor and helping make all this possible.  If you're looking for a great twitter application to get the information the way that really works for you, oneforty's the place to go.  With reviews from real users and a clear description of each apps features oneforty should be your first twitter directory resource.  Every character counts, do more with oneforty.