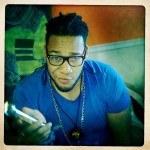 [audio:https://meetmyfollowers.com/wp-content/uploads/podcast/042.mp3] Length: 20:51
Download Episode #42 – @deandresays
DeAndre Upshaw (@deandresays) is one of those people I feel really fortunate to have met in the last month.  The guy is super smart and knows how to leverage social media platforms to draw not only attention but actually build communities that benefit a business.  Taking bits of his undergraduate degree, his experience in improv and his dynamic personality he's been able to win job after job in the social media space.  I'm definitely looking at what he's doing to up my game and I hope you will too.  Enjoy!